Home Security Solutions ist eine gefährliche Malware, die versucht, ihre Opfer zu überzeugen, dass sich verschiedene Viren auf ihren Computern befinden. Da der Parasit aus der Rogue.VirusDoctor Familie stammt, beginnt er seine irreführende Kampagne sobald er es schafft, ins System zu gelangen. Das geschieht durch die Hintertüre des Systems oder durch gefälschte Seiten, die anbieten, das System kostenlos zu kontrollieren. In den meisten Fällen wissen die Opfer nicht, dass Home Security Solutions heruntergeladen wurde oder glauben, dass ihnen eine seriöse Anwendung zum Download angeboten wird. Bedenken Sie, dass es das Hauptziel von Home Security Solutions ist, ohne Anzeichen in das System zu gelangen und alles dazu vorzubereiten, den Opfern Geld aus der Tasche zu ziehen. Verwenden Sie bitte eine seriöse Anti-Spyware, um die Malware Home Security Solutions von Ihrem Computer zu löschen.
Um seine Opfer glauben zu lassen, dass ihre Computer schwer infiziert sind, beginnt HomeSecurity Solutions seine Kampagne, indem einige Dateien im System abgelegt werden, die als betrügerische Dateien "gefunden" werden. Einige dieser "gefährlichen" Dateien sind: %UserProfile%\Recent\ANTIGEN.exe; %UserProfile%\Recent\ddv.sys; %UserProfile%\Recent\eb.dll; %UserProfile%\Recent\FW.dll; %UserProfile%\Recent\grid.exe; %UserProfile%\Recent\kernel32.exe; %UserProfile%\Recent\kernel32.tmp; %UserProfile%\Recent\pal.exe; %UserProfile%\Recent\tjd.exe.
Sie finden auch einige neue Registry-Schlüssel, die dazu führen, dass Ihr infiziertes Betriebssystem korrupte Prozesse des Virus laufen lässt.
Die Meldungen, die die Opfer einschüchtern sollten, lauten so oder ähnlich:
"Attention! 20 infected files detected!
Scan Result: Your computer is infected!
Recommended: click "Remove All" button to erase all infected files and protect your PC"
Nach all diesen Vorbereitungen beginnt Home Security Solutions gefälschte Meldungen in Form von Pop-Up Werbung und Scanberichten anzuzeigen, die nichts mit der echten Situation ihres Computers zu tun hat. Die wahre Absicht ist es, nichts ahnende PC Benuzter glauben zu lassen, dass ihr PC infiziert ist und dass nur Home Security Solutions stark genug ist, um alle diese Viren zu entfernen. Diese betrügerische Anti-Spyware lässt Benutzer für die gefälschte "Vollversion" bezahlen, entfernen Sie das Schurkenprogramm daher sofort. Falls Sie bereits für die Malware bezahlt haben, kontaktieren Sie bitte Ihre Kreditkartenfirma, um die Gebühren anzufechten. Befolgen Sie außerdem die unten stehenden Tipps, um Home Security Solutions so schnell wie möglich zu löschen.
Programme zur automatischen Entfernung von Malware
Wir sind Partner dieses Programms. Lesen Sie unsere Offenlegung.
Home Security Solutions manuell entfernen
Verwandte Bilder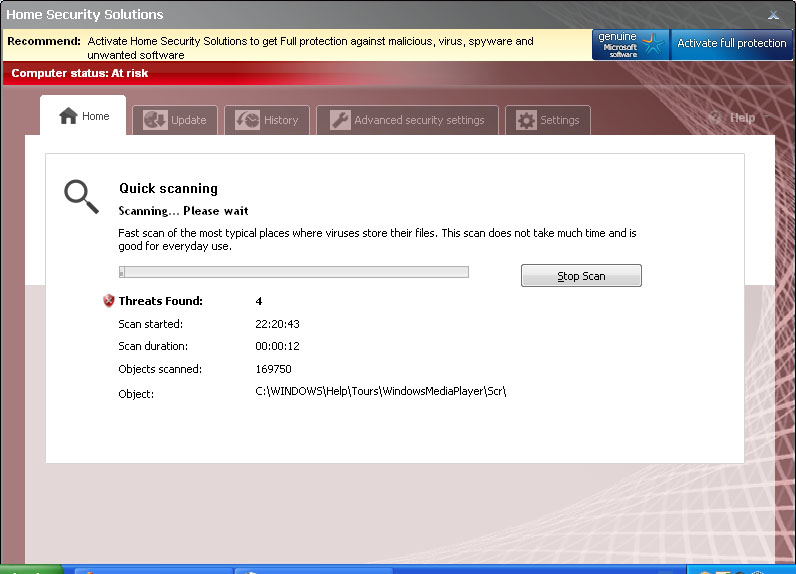 Quelle: https://www.2-viruses.com/remove-home-security-solutions